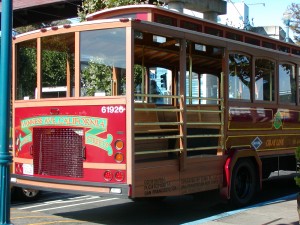 Today was awesome!  Ok, we started toward San Francisco Tuesday night knowing that there was only one ferry that you can take to get to Alcatraz Island and that it was sold out.  I knew we would be able to see the Golden Gate Bridge (I didn't know that a heavy fog regularly rolled in so thick that you wouldn't be able to see the bridge!).
I knew we would be able to see a trolly cable car.  And I knew we would be able to see the rolling hills that San Francisco is famous for (although I wasn't aware of exactly how steep they truly were!).  But I must be honest – I wanted to tour the Rock!  I kept hope that we would be able to get on that sold out ferry.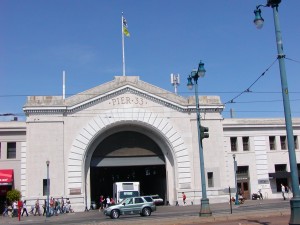 We left early from the hotel and crossed the Bay Bridge that we had crossed the day before, took at least one wrong turn in town, headed to Pier 33, hunted for close parking, all while Stephanie continually reminded me of the prior day's event (see A Great Adventure) and respectfully asked that I not turn up any steep hills.  We finally found a public lot for a mere $20 a day…  What a deal… for the parking lot company!
Despite the large signs reading, "there is no attendant on duty, pay only the machine" and "This guy (picture of a guy) is an imposter, DO NOT GIVE HIM MONEY, pay only the machine" and "DO NOT PAY AN ATTENDANT, HANDWRITTEN PARKING SLIPS WILL NOT BE VALID!", there was a short asian man in a parking-lot-looking attendant shirt, taking cash from cars that pulled into the lot.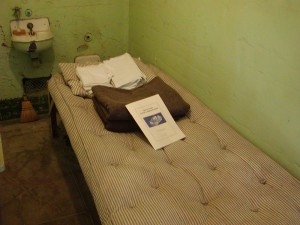 I hesitated, but pulled out my credit card and said to the impostor who was blocking the machine, "excuse me – I need to get to that machine".  This sly guy – grabbed my card out of my hand, turned around and swipped it into the machine, then handed it back to me – took the ticket that printed out and walked over to my car.  I followed him after checking the machine to make sure it didn't have any strange looking devices covering the card reader.  He wrote down part of my license plate on the parking slip and handed it to me – asking that I put it on my dash.  I couldn't believe I let this guy take the credit card out of my hand!  I called the number on the signs and reported this strange behavior.  The lady that answered assured me that there was no attendant on duty and that she would send a manager out.  I figure, as long as I max my card out before this guy gets to try it, I'm good… :o
Anyway, We walk to pier 33 and ask the question I already know the answer to because I had just confirmed it online that morning –
"Are there any tickets for Alcatraz today?"
"Yes, 10:30am."
"Are you sure, we would really love to go to …. uh?  oh… umm… ok – I'll take two adults please!"
That's right – we got on the ferry!  Apparently there are several hotels that are granted several tickets and 'sell' them back if they cannot fill the seats.  If you get there early enough, you can get on a sold out boat!  We took several pictures on the way over, several while we were on the Rock, and several on the way back.  I stood in a prison cell, walked the corridors, listened to the self paced audio tour, and loved every minute of it!  I enjoyed listening to former inmates talk about how bad it was.  One of the prisoners stated that he was there for four years and it "straighten [him] up".  Later on the tour it talks about when they closed down the prison because the correctional system changed from punishment to rehabilitation.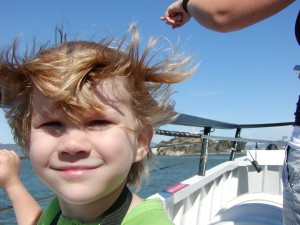 That struck me as odd since I had just heard  an old prisoner say how it straighten him up.
My favorite part of the tour was rule number 5.  Its in every inmate's hand book and it goes like this:
You are entitled to food, clothing, shelter, and medical attention. Anything else is privilege.
I almost purchased a copy to give my children as they grow older…