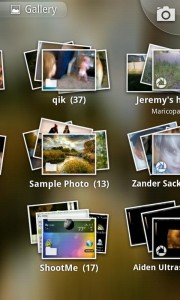 I know you are just like me – before you could get your hands on the Evo, you talked to all of your Droid and Nexus One tottin' friends and played with their phones.  Then you saw the amazing Gallery integration with Picasa and thought – that is EXACTLY what I need to keep my photos backed up from my phone.
Then you got the Evo – and the honeymoon started… but the second you opened the Gallery – the honeymoon wasn't over, but certainly not as nice as you expected. Â No worries, right? Â A quick trip to the Market and there must be an app or upgrade or something, right? Â Sadly – Nope.
How are you ever going to get that Picasa goodness on your phone? Â Not to mention the 3D style of the albums that is pretty awesome too. Â You could do what I did and search the internet for hours (in fact, you may already have, which is how you ended up here)… But I'm not going to tell you I got it working without giving you the apk file!
You can get it here – Gallery 3D.apk but here is a word of caution – the first time it opens, it takes forever to load. Â You may get a force close error message – open it again and don't fret. Â The camera button in the top right hand corner of the app will give you an error (see screenshot below)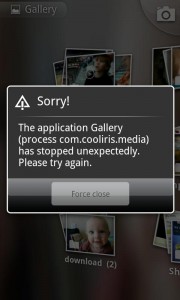 UPDATE: What's that? You DON'T want Picasa albums – just the cool 3D gallery features for your pictures on the phone? Â If that's the case – you don't have to install this apk with all its buggyness – you can get the same 3D gallery effect by installing the 3D Gallery plug in for the "Flikie Wallpapers" app. Â Both the plug in and the wallpaper apps are available in the Market, work well on the Evo and do not have the Force Close error message pictures above. Â You also get the added benefit of a great way to find and download new wallpapers. Â For me – not having Picasa is a dealbreaker. Â But if Picasa isn't your thing, here is a link: Â http://www.androidzoom.com/android_applications/tools/n1-3d-gallery-addon_hosl.html
Notes:
I got the apk from the xda forum here (requires a logon):