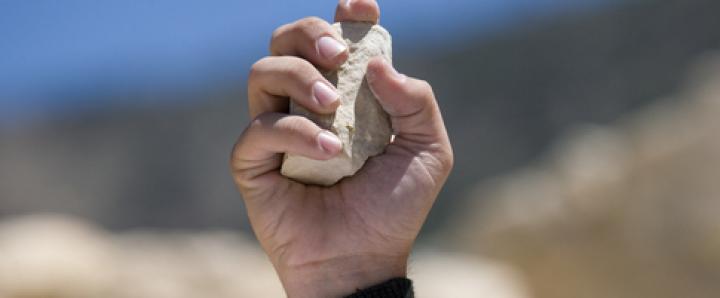 John 8:1-11 tells the story about a woman caught in adultery, taken before Jesus by the religious leaders of the day. They didn't value His teaching, but instead were looking to trap him by making him either agree to stone her according to the law of Moses (kinda goes against that whole love and forgive message He was preaching) OR have him say don't stone her (which goes against the law of Moses).
Most of us know the story – Jesus said whoever has no sin should throw the first stone. And since no one was without sin except Jesus – the religious leaders were foiled again and went home, without stoning the woman. Jesus then told her that he didn't condemn her either but added "Go and sin no more".
I've heard many sermons about this passage and even a Christian Comic do a bit about it. Most of time the point is relayed that we all have sin and none of us have the right to judge someone else's sins, however occasionally I hear the emphasis on Jesus' parting commandment – sin no more. Opening the door to the idea that if someone is "sinnin' more" then maybe we can pick those stones back up.
One person commented to me recently, "I wonder why everyone wants to talk about how Jesus told the crowd with rocks to go home but never wants to talk about how he told her to sin no more."
My answer to him was simple and I think worth sharing with you – Because we are the crowd, we are not Jesus. Put down your rock and go home.