We are 5 weeks pregnant!  Our due date is 7/8/9, Lexi's due date was 9/8/7.  Lexi was born on 9/4/7, so if her unborn sibling follows suit and comes four days early, he or she will be born on the 4th of July, very cool!  We went through invetro (thanks to great health insurance) for Lexi and we used invetro again with a process called frozen embryo transfer (we had 11 on ice left over from when we got pregnant with Lexi, now we have 9 left).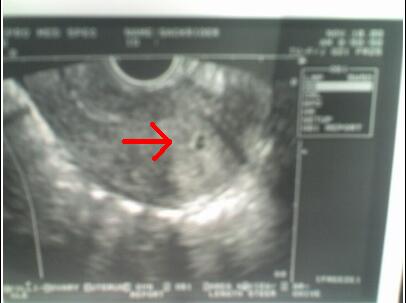 Its amazing what doctors can do – technically, I think this makes the new little one and Lexi twins… :o)Â  —- Don't miss read that, the ultrasound picture only shows one little baby in the oven…
We are very excited about the newest edition to the Sackrider Family!
BTW – if you want to see pictures of Lexi – here.  If you want to order any of those pictures, you have to do it through Target – send me an email and I will get the information you need to you.
We are still working on a family picture, just haven't had the time or money – as soon as we do, I will post them to the website as well.
Keep us in your prayers.