I know you are dying to try the Qik Video chat – but you can't figure out how to add a friend to Qik so that you can chat. Â I tried the gmail import option but it gave me a non helpful error message for the first few days – it worked today – kind of. Â It gave me three options from the 1700 contacts I have in gmail – and I didn't know any of them enough to actually video chat with them. Â The weird part here is that I actually have three friends in my gmail that have the HTC Evo and Qik – none of them showed up in my list.
So – you met someone in line waiting on your Evo – or your wife got one with you – or whatever. Â You know someone on Qik and you want to video chat with them – but how?!?!?!?! Â Maybe I'm the idiot, but it took me a while to figure out how to add a person. Â Its much too simple for all of the hassle – just go to their Qik page using your favorite browser

and click "add as friend":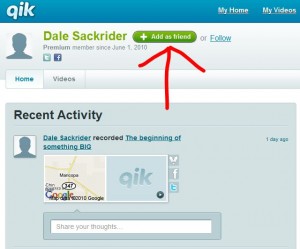 Now – you want to video chat with them, right? Â Well, first you have to install the new version of Qik – the one that came with your phone doesn't do video chat.
You can open your Evo's amazing browser and go to http://d.qik.com or just or just scan this bar code from the Evo using Barcode Scanner (an app you MUST have – download it from the Market):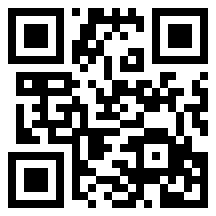 From here – it should be pretty easy – open the app, pick your new friend from the address book and start a call.
*Update – they have removed the app from the Market due to issues with video chat. Â Forget 'em – go here: http://m.fring.com – download Fring and use skype!